Paper has forever been the universal proof of compliance.  
Paper has powered legally-binding documents. Both businesses and certifying bodies use, acknowledge, and trust paper. From application records to certificates, paper has its place in quality management's documentation mix.  
But paper has an inherent problem: it's more expensive than people realize. 
Additional costs of a paper-based quality management system include labor chasing signatures, time spent cross checking files, misplaced files, securing paper files, storing in accessible places, long term storage of auditable superseded files, shredding and disposal. 
So, paper's real cost isn't the few dollars you spend on getting a ream. If you factor in all the processing it undergoes as part of your quality management documentation, and you'll realize how costly paper-based document workflows can be. 
It's not just the cost of paper that's a problem. Another downside of paper-heavy quality management documentation is its lack of agility. A quality management infrastructure that relies heavily on paper can't move fast. That explains why companies pay so much attention to document control when choosing a quality management system.  
Tracing Paper's Journey in the Quality Management Documentation Mix
Each certification standard comes with a long list of mandatory documents. All of this "paperwork" — which includes policies, procedures, process documentations, certificates, case studies, and forms, among others — is subject to review by the certifying bodies. 
For example, to get ISO 17025:2017-certified, you'd need to submit at least the following documents: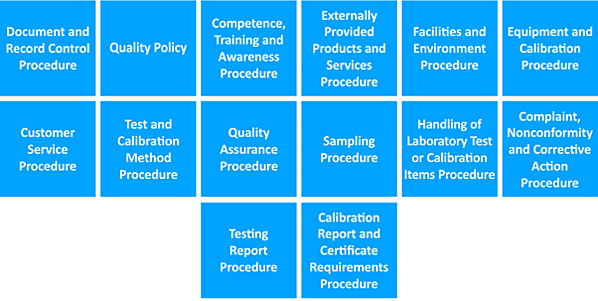 Image source 
With all the documents combined, many applications can run up to hundreds of pages.  
Even if you factor out the increasing prices of paper (that have hiked by 3-5% this year), the way paper is processed makes it very expensive.  
Take printing, for example. Companies, on average, spend about 5% of their annual revenue on printing. Quality management related docs (including documents carrying organizational knowledge) comprise a big part of the printed stuff.  
You'd be surprised to know that managing paper over its entire lifecycle can cost about 31 times the cost of the original paper: 

Image source 
Finding misplaced documents is yet another challenge.  On average, companies misplace one out of every twenty paper documents. The effort spent in searching costs an extra $20 in labor charges.  
And if you have to reproduce one, you might end up spending an amount to the tune of $220. 
In case you go with a paper-intensive application and end up submitting incomplete or erroneous documentation, you could find yourself redoing everything — adding more overhead to an already expensive process. 
Paul Dionne, Intellect's Manager of Presales Solutions Engineering,, states that it costs about $125 every time a document is misfiled. And, on average, filling costs about $20 per document. 
That's why Paul recommends businesses to make "getting off tedious paper-based systems" a priority.  
It speeds up the auditing process too: "On average, switching from a paper-based system can reduce onsite audit time to about 3 days, which means no more late nights and weekends. Woohoo!" says Michele Hoppenrath who previously oversaw internal audits for a large testing lab. 
Depending on your industry and target certificate, your documentation and filing needs can be even more exhaustive. Take Premarket approvals (PMA) for class III medical devices under the FDA, for instance. It calls for even more thorough documentation filing, leading to even higher costs and processing times. 
Naturally, there has to be a better way to documentation than using physical papers. And there is.  
The Almost Paperless Way to Quality Management Documentation 
Reviewing your quality management documentation will show you that many of your documents can be processed fully digitally. Certifying bodies, too, accept digital copies for many of them. 
Look at this graphic to get an idea: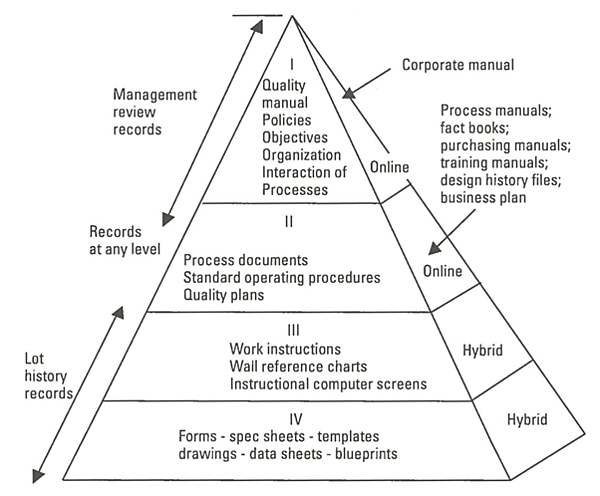 Image source 
Creating and maintaining documents carrying your organizational knowledge like SOPs, process documents, quality plans, manuals, training records, and policy documents among others can be digital, whereas, work instructions, reference charts, and specs can use both digital and physical copies. 
During application, you'll only need physical copies of the documents that the certifying body mandates. Others can be submitted as digital files.  
Another benefit of digitally processing your quality management documents is that your QMS solution hosting them functions as a single source of truth with up-to-date documents, data, and processes that your people need to run a compliant business. Everything is accessible to everyone at all times and on every device. Searching for content, too, is easy and effortless. 
Digitizing quality management documents also helps with ensuring compliance as regulators require you to maintain a document control management system. 
"Paper-light" is the paperless for quality management 
Going paperless might not be a realistic goal for many businesses, especially in areas like quality management where compliance issues can happen.  
However, a more reasonable target of going paper-light is very doable.  This can be a great opportunity to create a culture of quality.  
With a quality management system like Intellect that comes with a mature document control module, you can easily digitize documents that power your quality assurance while making compliance easier and guaranteeing consistent quality.   A digital solution also provides full transparency into who made what changes, when, and why.    
If you're looking to upgrade from a fully or significantly paper-based quality management system to a more robust digital one, check out Intellect. Intellect's document management features are designed for the paper-light future of quality management.