The build vs. buy dilemma isn't new to businesses considering investing in a quality management system. After all, they often have very specific needs from their QMS solutions (depending on the regulations that apply to them, their desired process automation maturity and manufacturing velocity, their monitoring and analysis expectations, and their unique documentation and data processes, among dozens of other things).
But simply not finding a QMS solution that does everything a business wants it to do right out-of-the-box doesn't mean going with building one from the ground up. A viable alternative, here, is to buy one and configure it to meet your unique needs and SOPs.
Sure, such customizations can be "IT-intensive" and expensive but with QMS solutions like Intellect that come with a no-code platforms (essentially allowing you to configure your QMS without writing a line of code), they don't have to be so.
Let's see what both the approaches toward creating a custom QMS (building vs. buying and configuring) actually mean and how they stack up against each other.
Here goes.
When you BUILD a QMS system…
When you build a quality management system for your specific use case, you need to factor in ALL the quality management principles (QMPs) of ALL the quality standards that apply to your business.
ISO 9001 and a number of similar standards and regulations use at least 7 QMPs:
1. Customer focus
2. Leadership
3. Engagement of people
4. Process approach
5. Improvement
6. Evidence-based decision making
7. Relationship management
Zooming in on these shows how each translates to dozens of "software requirements." Here's a high-level snapshot of what the Process Approach principle would need in terms of software features and functionalities:
– Determining the necessary processes for meeting the different objectives

– Establishing authority, responsibility, and accountability for process management

– Recognizing the organization's capabilities and evaluating resources for process execution

– Identifying process interdependencies

– Offering ongoing process management

– Making information accessible for operating and optimizing processes and overall system performance

– Managing risks endangering process outcomes
Among others.
In this way, when you work through ALL the principles of ALL the standards that apply to you, your (very long) list of requirements will give you an idea of the scope of your in-house QMS project. Did you know a whopping 71% of software development projects fail simply because of poor requirements management?
Often, real software requirements don't get documented well: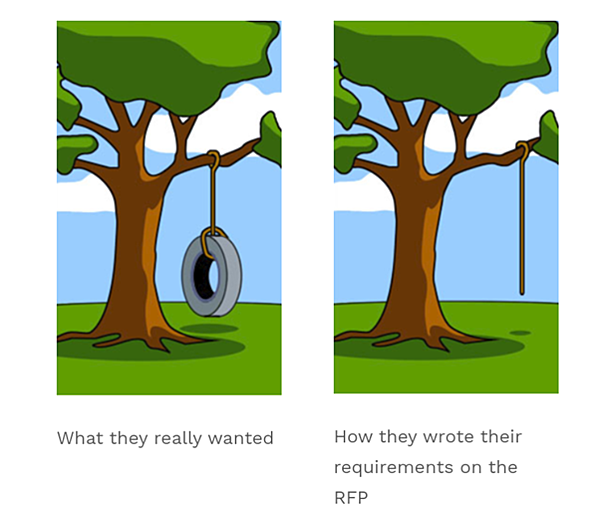 Image source
And it's not just requirement sourcing that's challenging. Securing buy-in from all the stakeholders, budgeting, and other logistics, too, are time- and resource-intensive.
The idea of building a QMS in-house resembles an iceberg in many ways.
What it appears vs. what it's really like with the infrastructure powering it:
It's (mostly) not cheaper than proprietary solutions as it's supposed to be.
Sometimes businesses consider building their own QMS systems as they believe that building in-house would lead to significant long-term cost savings over investing in a third-party proprietary solution.
Most of these bank on open source code to power their in-house "cost-effective" and custom QMS solution.
But given that the top Gen 3 open source solutions are commercialized, with more than 90% of their code actually coming from companies commercializing them, these solutions, too, aren't really that free, especially when you're looking to adopt them in an application such as a QMS.
A Gartner report shares that LESS than half of "mission-critical open source investments will achieve substantial cost-saving benefits over third-party commercial alternatives."
So if you plan on building an in-house QMS solution, even when you power it by the more cost-effective open source software, you aren't guaranteed cost savings in the long term.
Besides, you can't also be sure if you'll be able to deliver the project in the first place as many in-house development projects get scrapped, abandoned, or simply fail — because of reasons ranging from scope creep and cost overrun to delays. Sometimes, a delivered project, too, ends up being "not fit for the purpose" or fails to inspire user adoption.
In cases like these, you might actually be looking at very poor ROI (if at all) and may even incur losses.
If you go with a propriety QMS solution instead, you won't just eliminate the possibility of a failed project, but you'll also be sure that investment-wise, at least, you're making a good decision. Also, with proprietary solutions, you'll know exactly how much you'll have to spend on your QMS the next month, quarter, or year.
And you also need an IT crack team.
Right from building your QMS solution to maintaining it, you need a great IT team.
So before you trust your current IT team with building your QMS, evaluate its capabilities, because not every IT team is ready to deliver a complex solution like QMS software.
Also, don't forget that your IT team's "maturity" isn't just about how well it can code. It's about everything right from how well the requirement building stage rolls out and the coding happens all the way up to how your release cycles get planned.
Here's a quick software team maturity evaluation model you could use: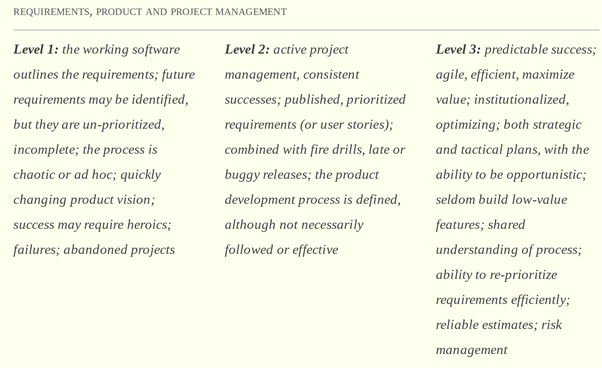 For delivering a good QMS, you'd need to be at level 2 or 3 for most parameters.
The other option, of course, is to outsource the development and maintenance to capable teams. But this isn't without its challenges either.
When you BUY QMS software (and configure it)…
The 80% rule is an interesting one when it comes to the perpetual building vs. buying IT conundrum.
This rule suggests that if a commercial solution does 80% of what you'd like it to do, you shouldn't have to build one from scratch.
With such a commercial option available, you'd actually be advised against even attempting building your own.
Now, because the QMS marketplace is so mature, it's not that difficult to find solutions that hit this mark. For instance, with a solution like Intellect QMS 4.0, you can get most of your requirements met right out-of-the-box (simply because it's an comprehensive solution built based on feedback from hundreds of QMS customers) and configure the rest to meet your specific requirements.
When you choose a ready-to-deploy QMS software solution, you also get freedom from maintenance (while staying secure and getting regular updates).
The responsibility of maintaining a proprietary QMS solution lies with the software provider — and not with you.   And you're left to work on your core business operations.
This is one of the most significant advantages the "buy" QMS option has over the "build" alternative.
Then there are infinite configuration possibilities as well (without needing any coding).
Not every QMS solution allows this, but QMS software with a no-code platform, like Intellect, let you build upon the existing core without writing any code. You can modify the out-of-the-box applications and even build entirely new business applications with custom workflows, forms, and report.
Our customers who evaluated the idea of building their QMS solution in-house tell us that compared to their project timeline estimates, they were able to "get what they wanted 10X faster" by configuring Intellect.
There's more to this.
Such flexible QMS solutions also let you run an "agile" QMS, allowing you to respond to changes immediately, whether it's adding yet another regulation compliance process or reworking EVERYTHING in response to a global pandemic.
So basically, you can configure an out-of-the-box QMS solution to deliver everything you need. Should you still consider building one?
That's the real question.
But this isn't to say that building a QMS from scratch never makes sense. In can — sometimes. For example, when doing so gives a business a competitive advantage. But this isn't the case always.
If you're ready to check out a QMS solution that you can buy and customize and make it your own, check out Intellect or sign up for a demo.